On the eve of the National Day when the lights were blooming and the country was celebrating, Hailiang successfully won the bidding of Midea's air-conditioning after-sales installation copper pipe project with absolute advantage among many competitors with its excellent product quality, perfect after-sales service and excellent corporate brand through layers of screening and fierce competition, and became a strategic partner with Guangdong Midea Group.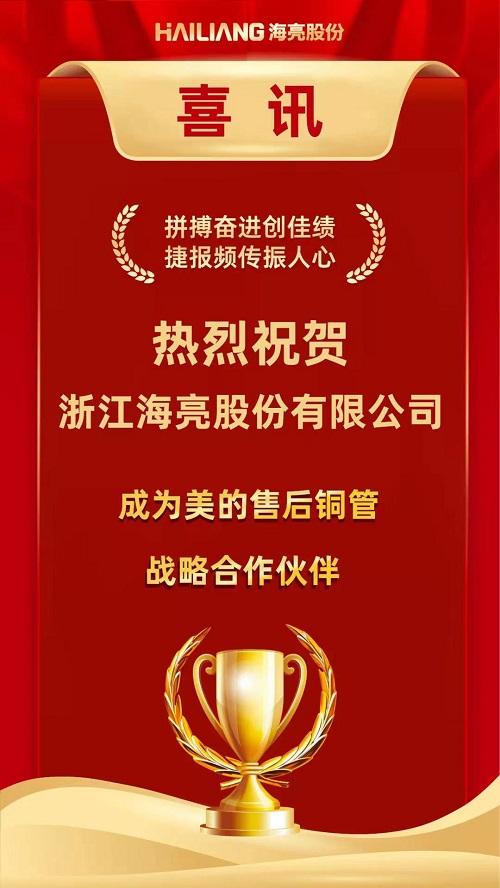 The successful bid could not be separated from the unremitting efforts of Hailiang's channel sales team, which always upholds the spirit of "integrity, stability, pragmatism, efficiency and excellence", focusing on new business, seizing new opportunities, exploring new models and opening up new markets under the platform advantages of Hailiang's non-ferrous intellectual industry, and making every effort to achieve new breakthroughs in performance targets.
Before this, Hailiang has fully launched after-sales strategic cooperation with international brands such as Daikin, Hitachi, Toshiba, Mitsubishi Haier, Gree, Hisense and York. The successful bidding of the after-sales installation project of Midea Air Conditioner marks the brilliant achievement of Hailiang once again in the field of after-sales installation of air conditioners, stepping into a new height. In the future, the company's channel sales team will continue to work hard, forge ahead, continue to strengthen market analysis, improve customer service quality, and strive to build a large platform for service in the field of cold distribution in China.
Hailiang has always been committed to providing customers with quality products and services, providing employees with a good employment and growth platform, and delivering advanced management concepts and manufacturing experience to the industry. Hailiang will uphold the spirit of artisan manufacturing, serve the society and people's livelihood with high quality products, and continue to make contributions to promote economic development.
Previous: "Copper" heart and mind together, thick accumulation of "foil" development The first phase of Hailiang New Material's copper foil project with an annual production capacity of 12,500 tons started ahead of schedule. Next: Li Peixing, Vice Governor of Gansu Province and his group surveyed Hailiang New Material