On September 15, with the smooth release of the No. 2 raw foil machine system, the first phase of Hailiang High Performance Copper Foil Project with 12,500 tons production line started ahead of schedule, which is implemented by Hailiang (002203.SZ)'s subsidiary Gansu Hailiang New Energy Materials Co., Ltd. (hereinafter referred to as "Hailiang New Material"). This marks a brand new stage in the development of Hailiang in the field of new energy materials, and the production capacity will be released gradually.
With an investment of 8.9 billion RMB and an area of 850 mu, the project with an annual production capacity of 150,000 tons of high performance copper foil materials is a major strategic decision of Hailiang to respond to the call of the national double carbon strategy and enter the new energy industry, and is also one of the important strategic layouts of Hailiang Smart Manufacturing as a "global leader in non-ferrous industry ecology". The project is located in Zhongchuan Park, Lanzhou New District, and will be built in three phases (each with an annual production capacity of 50,000 tons), and will have a production capacity of 150,000 tons per year of high performance copper foil when it is all put into operation in 2024, including 120,000 tons of lithium copper foil and 30,000 tons of standard copper foil.
Highly efficient production of capacity construction and rapid improvement of product quality
From the ground breaking in December last year to the successful trial production of the first production line in June this year, Hailiang New Material has created a new record and a new miracle in the industry with less than half a year of "Hailiang speed". At present, the first production line has entered a smooth running production state, with the mass production capacity of 4.5-8 micron copper foil, and has overcome the production technology of 3.5 micron copper foil, and the comprehensive product qualification rate exceeded 71.9% by the end of August. With the early start of the 12,500 tons production line today, Hailiang has achieved the construction of 12,500 tons annual production capacity in 9 months. Hailiang people continue to surpass themselves, proving and refreshing their own resource organization efficiency and production line construction capability once again. With the experience of equipment commissioning and yield improvement accumulated in the first production line, the 12,500 tons production line will quickly switch to the production capacity climbing stage and achieve stable mass production and shipment in the fourth quarter.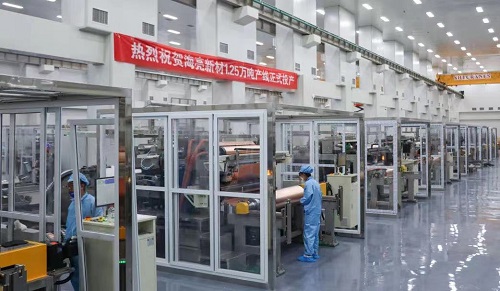 "The successful trial production of 614 made the whole industry shine, and the early start of 916 is a key step in Hailiang New Material's development strategy, but to win the general recognition of downstream customers and the market, it is necessary to adhere to product quality as the foundation and customer demand as the center", in the recent project stage summary meeting, Cao Jianguo, Chairman of the Board of Directors of Hailiang Group, emphasized that Hailiang New Material must do its best to continuously improve product quality, solve customer product and supply chain pain points, and create value for customers.
Up to now, Hailiang copper foil has docked more than 160 downstream battery customers and established supply and procurement relationships with more than 70 customers. Head battery companies such as power and energy storage have shown strong interest in Hailiang copper foil products and we are now accelerating the procedures of sample delivery, testing and factory inspection. As a newcomer in the industry, the company relies on multiple advantages in technology, products and operation management to promote system certification and accelerate its entry into the supply chain system of head battery manufacturers.
Gathering industry leading talents and creating a win-win business platform
As a technology-intensive industry, the quality of copper foil products and the high-quality development of copper foil enterprises are highly dependent on professional talents. Hailiang New Material always adheres to the strategic positioning of "talent leads development", builds a high standard talent team, gathers industry leaders, creates a highly educated R&D team, upholds the concept of co-creation, sharing and win-win, and creates a community of enterprise and employees.
According to Dr. Wang Shuguang, Vice President of Hailiang Group and Chairman of Hailiang New Materials, Hailiang Group has set up Hailiang New Energy Materials Research Institute and hired academician Yu Yong as the chief advisor of the Institute and academician Wu Feng as the honorary president and chief scientist to deeply participate in and guide the R&D of the company. Now we have formed a professional talent echelon of "academician-expert-boo postgraduate researcher", with more than 20 young talents from C9 and Double First-Class universities such as Tsinghua University, Peking University, Zhejiang University, Lanzhou University and Beijing Institute of Technology. The team of Hailiang New Material has 8 key technical experts and senior managers with more than 20 years of experience in copper foil industry, involving in R&D, production, quality and other major value links, mastering various types of lithium copper foil manufacturing technology, including additive application technology, cathode roller grinding technology, efficient copper dissolution technology, electrolyte purification technology, anti-oxidation technology and copper foil slitting technology and many other core technologies. At present, more than 300 jobs have been created in the local area, and the project is expected to be upgraded to 2,000 people when it reaches full production.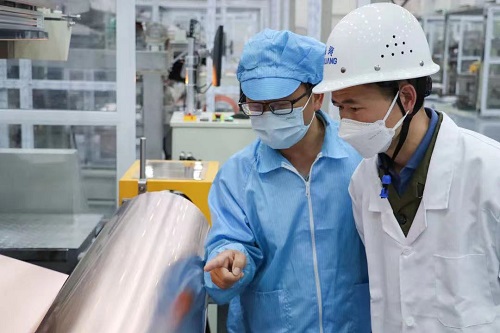 Improve the industry "moat" and create a digital benchmark for the industry
As a new energy material enterprise relying on the big platform of Fortune Global 500, Hailiang New Material is born from Hailiang, the leading non-ferrous metal intellectual manufacturing company. From the beginning of landing, Hailiang New Material is planning with high starting point, building with high standard and developing with high quality, striving to be among the head echelon of the industry in three years and completing the global production and sales layout in five years, insisting on building technical barriers with R&D innovation ability and empowering fine management with all-factor digital system.
Hailiang New Material is forward-looking planning and designing in the case of industry information construction generally lagging behind. With the strong digital strength of Hailiang in the field of non-ferrous materials manufacturing, it maximizes investment in a series of digital systems such as DCS, MES, ERP, CRM and the world's most advanced automated testing equipment, and uses the most advanced technology to build a digital system that meets the actual production of copper foil and runs through the whole process of production and operation, drawing a digital blueprint of "industry leading and Hailiang benchmark" and contributing to the lean management of the lithium industry chain.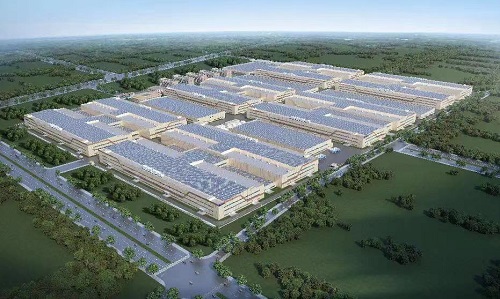 The national "double carbon" strategy is being firmly implemented, and the new energy vehicle industry has changed from a single "policy" drive to a "policy + market" drive, and the new energy materials field is booming. Hailiang New Material will pressurize itself, refine its internal strength, build up multiple advantages in capacity scale, cost, technology, talent and management, accelerate the Lanzhou base to become the world's largest production base of lithium copper foil, and commit to become the leader in the field of new energy materials.
Previous: Innovate Services to Promote Development | Hailiang Hold an Approval of Carrying Out the Customs Tax Guarantee Business Next: Good news! Hailiang becomes the strategic partner of Midea's after-sales copper