On October 11, Gansu Province Vice Governor Li Peixing and his group went to Gansu Hailiang New Energy Materials Co. (>hereinafter referred to as >"Hailiang New Material"), to investigate the construction, production progress and epidemic prevention and control of Hailiang's high performance copper foil material project. Wang Shiguang, Vice President of Hailiang Group and Chairman of Hailiang New Material, accompanied the investigation.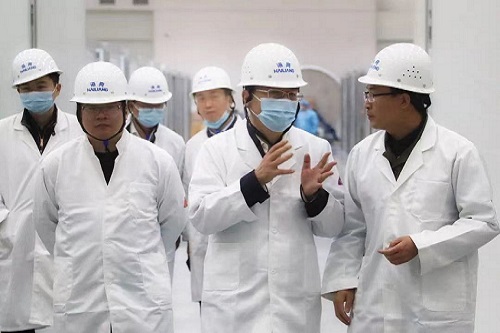 In the 50,000 tons production workshop of the first phase of the project, Wang Shuguang introduced the construction progress and production situation of the project. Since its landing in Lanzhou New Area in December 2021, the copper foil project has received strong support from the provincial and urban governments at all levels. Adhering to the spirit of "pragmatism, efficiency, innovation and dedication", the people of Hailiang New Material have been setting new records for construction and production in the industry with "Hailiang speed": In less than half a year, Hailiang has achieved successful trial production of 4.5-8 micron lithium foil, mastered 3.5 micron lithium foil production technology, and started up 12,500 tons of production line in 9 months ahead of schedule, and now has stable mass production and shipment capacity. It is expected that the first phase of 50,000 tons plant will be completed by the end of October, laying a good foundation for the first phase of the project to be put into operation in an orderly manner, which will lead to employment of 800 people and fixed asset investment of over 2 billion yuan.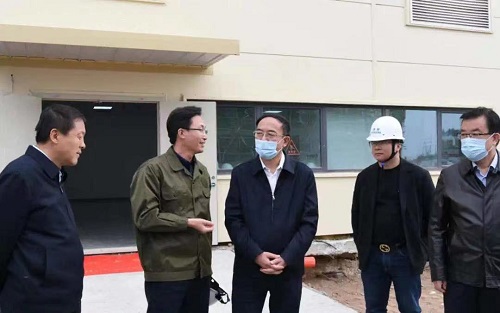 Vice Governor Li Peixing fully affirmed the work achievements of Hailiang copper foil project and highly praised the spirit of the Hailiang team for putting pressure on themselves, striving for the first place and daring to fight. He said that the current situation of repeated epidemics is serious, and it is necessary to coordinate the work of epidemic prevention and control and safety production, strengthen personnel control through closed-loop production, further improve the on-site epidemic prevention and control system and emergency plans, and ensure the smooth and orderly progress of the project. Hailiang copper foil project is a key project at the provincial level and an important part of building a new pattern of new energy industry development in Gansu Province. It is expected that Hailiang can continuously improve its scientific research strength and market competitiveness, radiate and drive the agglomeration development of new energy material industry chain, and gather strong momentum for the high-quality development of Gansu Province.
Han Xianming, Deputy Secretary General of Gansu Provincial Government, Wu Wanhua, Director of Provincial State-owned Assets Supervision and Administration Commission, Yang Jianzhong, Member of Standing Committee of Lanzhou Municipal Committee and Secretary of Party Working Committee of Lanzhou New Area, Shao Guoyong, Secretary of Board of Directors of Hailiang, Deng Ye, Deputy General Manager and Chief Engineer of Hailiang New Material and other leaders attended the meeting.
Previous: Good news! Hailiang becomes the strategic partner of Midea's after-sales copper Next: Exhibition | 2022 Mexico AHR exhibition closed successfully! Hailiang Foreign Trade, Focuses on Latin American market